LoudDoc Plans
Plans designed for the way we work.
We offer a number of different plans, each one designed to maximize your utility of LoudDoc based on your goals. Feel free to reach out through our chat tool to discuss if you are unsure of the right plan for you.
Picking A Plan
We offer three different plans. Everyone who signs up to LoudDoc starts on a starter plan. You can switch to a paid plan at anytime. Tap the UPGRADE button on your dashboard to see available plans and choose the one that's right for you.
Yearly
Active LoudDocs
All our plans are based on active LoudDocs. This is the number of LoudDocs you have available for sharing. You can delete or replace an active LoudDoc at any time and get the space back to share a new LoudDoc.
Each plan comes with a starting number of active LoudDocs. At any time, you can add more LoudDocs to your account. The additional LoudDoc will be added to your plan.
# Adding More LoudDocs
You can add more LoudDocs to your account at anytime. This way you only pay for what you need. Add 1 or more LoudDocs to your account from the Add More LoudDocs link at the top of your dashboard.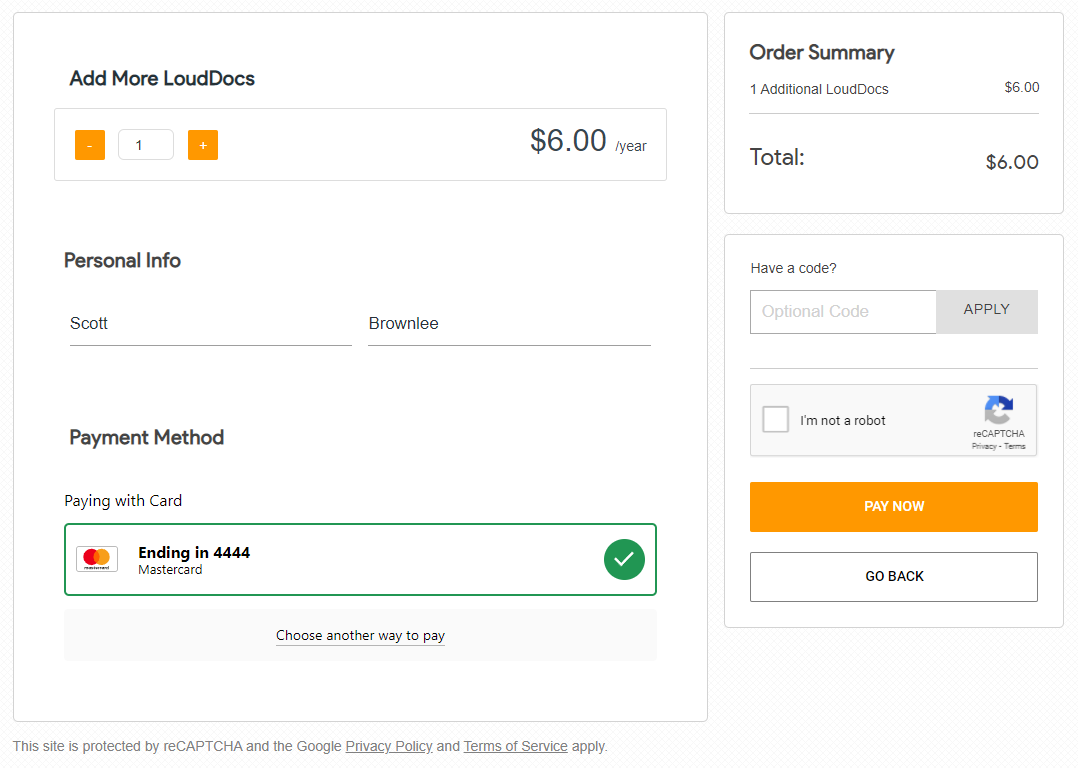 You can choose how many additional LoudDocs you'd like, and we'll automatically add them to your account. Your LoudDocs will be added to your current plan.
FAQ's
Plan Features
Monthly Vs Annual
All our plans are offered on a month to month and on an annual payment plan. You can save up to 40% by going with an annual plan. You can switch from a month to month to an annual plan at anytime.
Upgrading
It's easy to upgrade your plan on LoudDoc. From the dashboard, tap the UPGRADE button in the top right corner. Next, select the plan you would like, either the Professional plan, or the Annual Plan. You can toggle the monthly or annual pricing to see the difference.
Next, you'll be in our checkout page. Confirm your monthly or annual plan you'd like to subscribe to. Then enter your name, and your payment method. Your plan costs will be displayed in the right column.
Tap the Pay Now to complete your plan.
Changing Plans
You can change your plan at any time. We'll credit you any remaining time on your existing plan to your new plan.
Cancelling Your Plan
Well, we are definitely disappointed that we haven't shown you enough value to keep using LoudDoc. But that's okay, we know life is full of changes. You can cancel anytime and your plan will remain active until the end of your term.
To cancel your plan, open the YOUR ACCOUNT menu off your dashboard, then tap the big red button labelled Cancel Paid Plan.
If you can, please let us know how we can improve or what features you think would make our platform a better fit for your business.
Refunds
We do not offer refunds for month to month plans. We do offer a refund on our annual plans if you cancel before 15 days of sign up or within 30 days of your renewal.
Auto-Renew
All our plans auto renew. You can cancel the auto renewal anytime by cancelling your plan. Your plan will still be valid until the end of your current subscription period.
Receipts
You can find receipts for your plan under the YOUR ACCOUNT menu on your dashboard.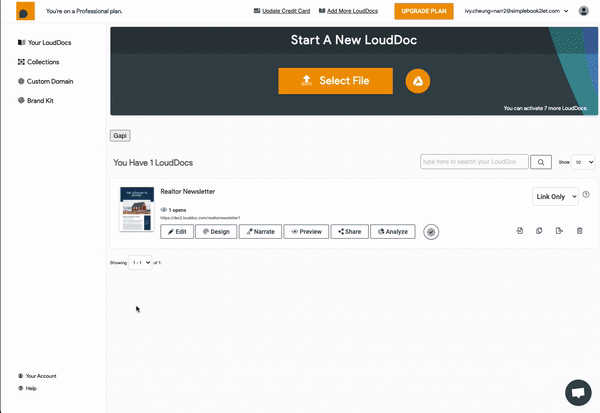 Select the Plan Receipt button. We'll list your current plan with its costs. You can also click to see previous invoices.