Tips and Tricks
Shared digital documents that are narrated are 5X more likely to be read start to finish than non-narrated digital documents. Time spent on each page can be as high as 10x a non-narrated page.
Be Authentic
People love the real you. You're the subject expert, it's why your audience is listening to you in the first place. Even just hearing your voice can bring a familiarity to the setting and make your audience more comfortable and confident in the message you are sharing.
When narrating your document, you don't want to just read the pages, people can do that themselves. You want to imagine you are in the room with them, and this is your chance to guide them through your content, pointing out what's important. It's your chance to be in the room with them when you can't be in the room.
Just be who you are, people love that.
Involve Your Team
It takes a whole lot of people to sell an idea. So get them involved. Invite others to narrate different parts of your LoudDoc. Adding their voice to your story can go a long way in keeping your audience engaged, and hearing from the right person at the right time.
We've made it incredibly easy to involve your team. From the narrate tool, you can send an invite link to anyone, and they can record their narration on their time. Once they've completed their narration, it's sent to you and you can choose to add it to your LoudDoc page.
Audio Narration Is Just As Effective
Look, we aren't always in the best setting to make a full video recording. Maybe you're still in your pajamas in your home office. Don't let that stop you from making a lasting impact on your audience. Use the audio only recording tool in LoudDoc to simply add your voice narration to a page. Your voice will make a huge impact to your audience, bringing the confidence and comfort of you guiding them through the concepts, ideas, and highlights in the content you are sharing.
Audio only is a great alternative to video narration, and can also give you twice the amount of narration time compared to video narration.
Lighting in Videos
Getting the best picture for your video narration can really set the tone. Lighting is probably the biggest issue most people run into, and it happens in all video communications. From a zoom meeting, a selfie video, or a facetime, you want the subject to be the focus of the video.
With webcams (built in or external), you'll want to have 70% of indirect light on your head. This should be a softer light (not an exposed light bulb on your face). So drape a white sheet or some material to diffuse direct light.
Also, for the best lighting and to remove shadows on your face (or reflection in your glasses), use two lights, 45 degrees on either side of your face. This helps light up both sides of your head, removing shadows and glare from reading glasses.
Webcams
Look into the camera as much as you can when recording your video. However, because a LoudDoc video always appears in the bottom left hand corner of your presentation, then having the camera positioned to the right and top of your screen can deliver the effect of you looking at your LoudDoc as you narrate.
Video Background
Many people worry about the background of their videos. Don't stress on this, as your background also lends your narration a certain amount of authenticity. You see this in YouTube videos all the time, where you are watching a tutorial from someone who's in their messy workshop or out in a backyard. The backgrounds can let you know they are real people.
The most important thing you can do is clear your background of anything distracting. Tidy up a little and start recording. People know we all work from very different locations these days. If you're really concerned, hanging a sheet behind you can work wonders.
Quality Sound
Sound is probably the most important part of your narration. The clarity of your voice will go a long way to persuading your audience. Usually a quiet area, that's not a large space, can create the best sound for your microphone to pick up.
However, all computer microphones were not created equal. It can be worth the investment of under $100 for a good microphone. You'll find them at lots of online and computer retailers.
Auto Play And Auto Flip
We've built a number of advanced features into our narration that can really improve your audience's experience. You can set any narration to automatically start playing the moment your LoudDoc page opens. It's a great way to instantly grab your audience's attention.
If your LoudDoc is more of a presentation, you can set your pages to turn the moment your narration is done. This is almost like storytelling, where your audience can just sit back while you take them through the document.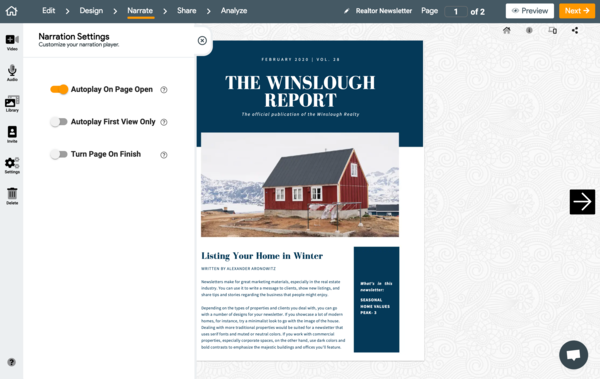 Auto play and auto flip are per page specific, so you can apply them only in the situations you think make the most sense.
Set Element Animations Timed To Your Video Narrations
On LoudDoc, you can add additional elements like notations, highlights, and stickers to your page. They are a great way to emphasize content on your page you want your customer to focus on. These elements can be animated to the timing of your narration.
Go to the EDIT tab, add an element from the toolbar on the left, and place it on your page. Then in the actions toolbar with your element selected, choose ANIMATE. You'll be able to set the animation to take place during your narration, set a time for the animation to happen, and choose what kind of animation it does (for example, fade in an arrow sticker at 22 seconds into my narration).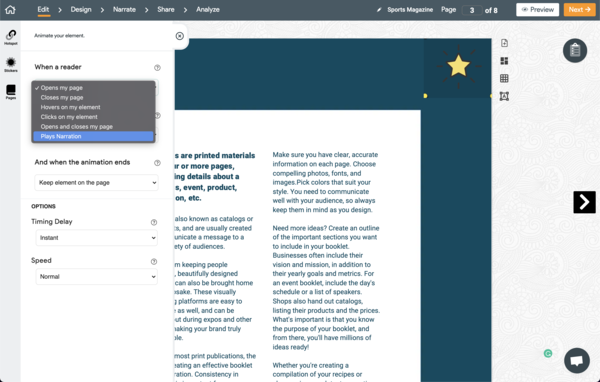 It's a very powerful way to focus your audience's attention.
Use LoudDoc When You Present In Realtime
You can turn off the narration for any LoudDoc. So if you're sharing your LoudDoc in a realtime video call, or presenting in a boardroom, you can turn off your narration and take your audience through your content.
On your LoudDoc page, you'll see a minimize button above the narration. Tap the minimize button and your narrations will be paused on every page of your LoudDoc. So when you flip through and navigate the document in realtime with your customer, your narration doesn't interfere.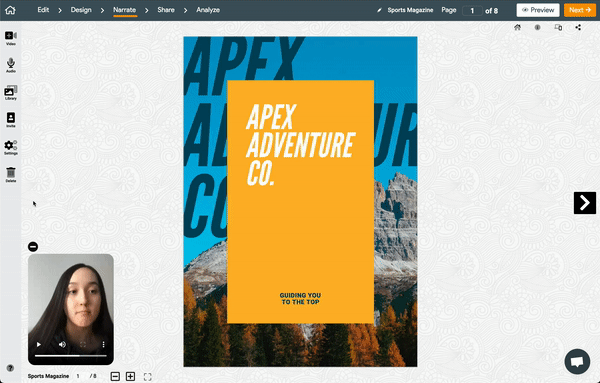 When your customer loads your LoudDoc on their device when you aren't there, your narration is available to them.